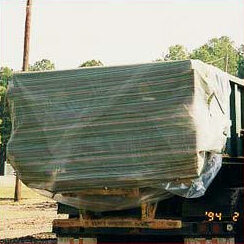 Our Spill Diapers help solve the problem of unexpected leaking tailgates in rolloff and dump trailers. Made from heavy-duty plastic, the Spill Diaper fits around the outside of the containers tailgate to contain leaking liquids.
Drivers can carry Spill Diapers in the cab of their truck as an insurance policy in the event of unexpected leaky tailgates. Spill Diapers are also useful for spill response teams. Landfills, incinerators, and treatment plants can also utilize the Spill Diaper as a way to minimize leaking containers entering their facilities.
To install, simply slide the Spill Diaper over the rear of the container and secure with tape. Use a reusable diaper tarp to hold the Spill Diaper in place for road travel. The unsightly and sometimes expensive problem of leaking containers has now been solved! Custom sizes can be ordered to meet your specific needs.
Advantages
Contains leaking containers
Insurance policy against fines
Reduces chance of unsightly containers and spills reflecting a negative image on hauling company
Reduces chance of holdups and increased labor cost at facilities that do not allow leaking containers on site
Applications
Leaking Rolloffs or Dump Trailers
Spill Response Teams
Landfills
Incinerators
Increased loading speed
Treatment Plants
Contact Us About This Product