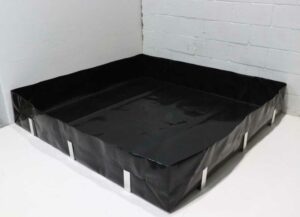 Our spill berms are easy to setup and break down in minutes. They are made of thick, rugged, 40 mil polyethylene. Our berms and our aluminum L-brackets are made in the U.S.A. in our Texas manufacturing facility.
Set up our berms under:
tanks
IBC totes
55-gallon drums
vehicles
anywhere you need
Our customers our berms to contain spills of:
oil and fuel
chemicals
fracking liquids
and more
Our most popular sizes are in-stock and ready to ship. For custom sizes, please contact us.
Stock Sizes, Ready to Ship
4 x 4 x 1 feet
119 gallons
6 x 6 x 1 feet
269 gallons
6 x 8 x 1 feet
359 gallons
10 x 10 x 1 feet
748 gallons
12 x 12 x 1 feet
1077 gallons
12 x 25 x 1 feet
2244 gallons
12 x 30 x 1 feet
2692 gallons
10 x 50 x 1 feet
3740 gallons
12 x 50 x 1 feet
4488 gallons
Contact Us About This Product